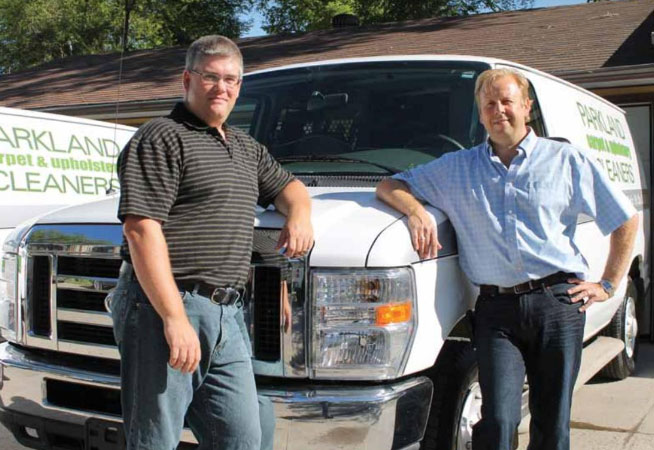 Dwayne Jendrasheske and Nolan Efford, the owners of Parkland Carpet & Upholstery Cleaners Ltd, chose this line of work because they enjoy being able to help people. "Over half the calls we get are because something has not gone well," Jendrasheske says. "Whether your pet got sick, you've knocked over your coffee cup, or your water heater just exploded, it's often a problematic situation that we're trying to solve, and we consider ourselves experts at solving those problems for people. Like our slogan says, 'relax, we can do it.'"
Like Dwayne Jendrasheske, each one of our employees holds a journeyman status for carpet and upholstery cleaning, as well as restoration services for lingers odours, smoke, water, and fire damage. As a long-term employee, even our receptionist holds a wealth of industry knowledge, so you'll always get quick, meaningful answers to your questions whenever you call.
Yorkton's Finest Cleaners
Since 1977, Parkland Carpet & Upholstery Cleaners Ltd has been a family-owned and operated business. We focus on all aspects of cleaning and restoration, from minor stains to major restorations projects. Every member of our team is a certified cleaning technician, ensuring your possessions are in the hands of a true professional. We're certified by the IICRC, the institute of Inspection Cleaning and Restoration and we only use state of the art professional cleaning equipment in all our services. We can offer you tips and tricks for getting out stains, we offer knowledge and experience for major situations as well.
Courteous & Friendly
As a local, stable company that's been around for over 40 years, we've worked hard in selecting the right group of people who are pleasant and good to our customers. We provide our staff with extensive training and they are always expected to act professionally with customer service in the forefront. We consist of certified journeyman textile cleaners, journeyman water restorers and odor repair technicians.
For great service, call Parkland Carpet & Upholstery Cleaners Ltd today!